Just six evenings
Author: Tanmay Dubey
Publisher: Rupa Publications
Rating: 4/5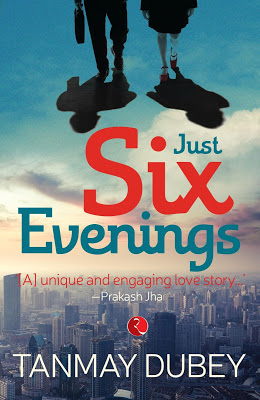 Summary
What is it that differentiates love from lust? Perhaps the answer lies within us. "Just six evenings" is about the time that changed Atul's life, leaving him off guard. But the unpredictable destiny is such a bitch! It turns back again, retraces the same path and brings back the reminiscence bump. Atul has already been through the consequences of his actions and now he is forced to come face to face with the most dreaded situations. This story is about how the circumstances can force a person to divert from the right path and start the wrong journey. It is about how easily lust can ruin love.
"Just six evenings" is a story about how twelve evenings changed the course of the life of our protagonist. The novella is not all about love, but it outlines the filthy underbelly of the corporate world too. There is politics, fraud, love, lust, money, success and failure. Altogether, this is a rollercoaster ride where the reader is left wanting for more. Will destiny help Atul get back his love? Or will the urge to soar higher and higher override the good that resides in his soul?
Grab your copies to know more and realize the importance of destiny's role in shaping one's life.
My opinion
"That line between love and lust was thin as a whisper." "Just six evenings" is a potboiler with all the essential ingredients of love, trust, betrayal, lust, money, sacrifice, realization, frauds and destiny.
Read the complete review here.